Finland celebrates its 95th
Independence Day
today. Google commemorates the event with a
Google Doodle
: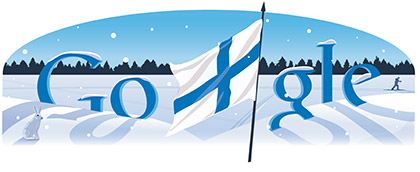 Even though independence was
gained peacefully
circumstances at the time were such that they soon led to a bitter
civil war
and, some decades later, at the onset of WW2, to the
Winter War
,
Continuation War
, and
Lapland War
. Since the events of the Winter War and the Continuation War are seen as essential to Finland surviving as an independent nation, those wars and their still surviving veterans, as well as the remembrance of those who fought and fell on the battlefield, are closely associated with the celebrations of the Independence Day even today, marking it as a somewhat solemn occasion. Or, as YLE puts it, "
Suomi hiljentyy itsenäisyyspäivän viettoon
" ("Finland quiets down to commemorate the Independence Day").
One of the hottest news items leading to this Independence Day has been the demands made by a representative of
the Finnish Centre for Media Education
, or MEKU, whose duties include classifying the age-appropriateness of movies. The said organization has deemed it illegal for the Finnish public broadcaster YLE to show
Tuntematon sotilas
("The Unknown Soldier", a 1955 feature film film by Edvin Laine, based on
the Väinö Linna novel
by the same name) at 2 p.m. due to its graphic scenes, which it sees as inappropriate for children.
It just so happens showing this film on TV on the Independence Day has become something of a tradition since the early 1990s. Moving it from the early afternoon to a later hour has been seen as a needless exercise of bureaucratic power and nannying — even disrespectful of the veterans — and many among the general public (and also the editors and columnists of various papers) have vocally protested to this interpretation of the law. However,
YLE has now yielded to MEKU's demands
and agreed to move their traditional schedule around so that the film will be shown at 5 p.m., instead, which makes it legal again in so far as the rules pertaining to age-appropriateness are concerned.
As always, the traditional things to do are lighting up
two candles
in the windows and, for many, watching the live broadcast of
the Presidential Independence Day Ball
, the most closely-followed red-carpet event in the country. The show can also be viewed from abroad
on this page
(6:50 p.m. Finnish time), and its "afterparty" (of sorts — YLE interviews tipsy celebs in the restaurant
Teatteri
, located in downtown Helsinki)
here
(from 10:15 p.m. onwards.)
Earlier during the day, there's also a military parade in
Kouvola
which is likewise covered by YLE (starting from 1:05 p.m. Finnish time) and can be viewed on the Internet
here
.
Otherwise, there's not really much to do. Most everything is closed as it's a national holiday, except for the smaller grocery stores (< 400 m²) which are allowed to do business even on holidays. There may be local events during the day, of course, and many restaurants/clubs remain open, though.