For those of you who grow your own, I thought you might be interested to see my butternut squash: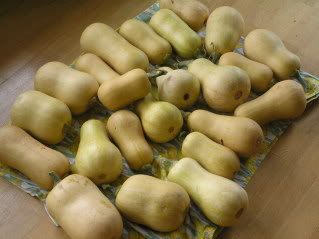 I think I bought the seeds from Plantagen or Bauhaus, they were Weibull's Butternut Harrier F1.
http://www.plantigo.se/vintersquash-but ... rier+F1+vi
I started them indoors in early April and potted them on on 18th April. Then put them outdoors (at the mökki in Raasepori) under fleece in May (can't remember the date). Removed the fleece in June, the bees did the rest, I just kept the weeds down and watered them when it didn't rain (quite often). In late August I started removing the new flowers and the shoots (to stop them spreading and producing too much fruit). A few weeks ago I tore off most of the leaves so the fruits could get more sun.
I picked the first few about two weeks ago and brought them indoors to ripen off. Yesterday I picked the rest because the deer had found them. I had maybe 40 squash from a dozen plants, maybe more.
Baked the first one this morning, about one hour in the oven at 180C. It tastes really buttery and nutty - lots of flavour. Will definitely grow some more next year.